Workshops
>
Pet Workshop on Pain, Behaviour and Acupuncture
Sorry - workshop cancelled
Sat 20th March, 11am, on line
with Dominique Baranska & Anna Patfield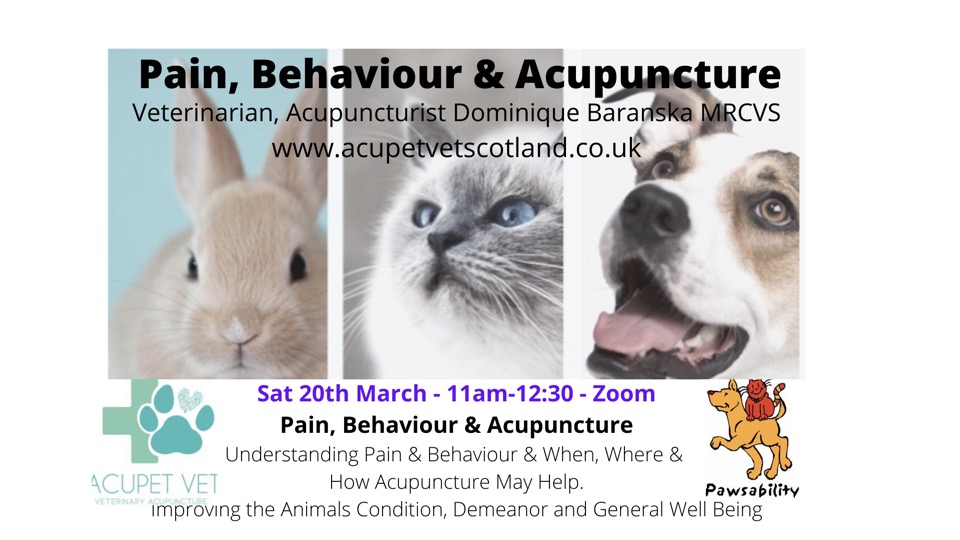 About the Event:
The event discusses Pain & Behaviour and How Acupuncture can help.
Please book and pay here
Anna will first help us to briefly understand why dogs display problems behaviours and why pain is often overlooked as the root cause.
Dominique will then provide an in-depth presentation on acupuncture: what is it, how it's used with modern veterinary treatment, and how it affects the body and the brain.
We also discuss how stress impacts on our pet's day to day lives, how we can recognise that and what we can do to help.
Following the talks, there will be plenty of opportunity to answer your questions.
Please book and pay here
or email anna@pawsability.co.uk to pay by bank payment.
Attendees will qualify for a £10 discount should they *book a consultation with either Dominique or Anna.

About Acupuncture & Treatment:

Acupuncture has gained increasing recognition as a useful aide to modern medicine in animals. Defined by the insertion of needles into specific points on the body to produce a natural healing response, the needles are very fine and do not cause any pain or trauma.
Acupuncture involves stimulating the body's natural repair mechanisms and helps boost a positive healing response in the nervous system, immune system, hormonal system and also the cellular system. Each acupuncture point has specific actions when stimulated. Treatment application follows from the initial accurate diagnosis and appraisal of all treatment options. A detailed history is reviewed, the animal is examined, and treatment is tailored to each individual. In many cases, acupuncture is best used in conjunction with conventional medicine, and in some conditions, it can be used as a sole treatment.
It may help to minimise the requirements for medications, and helps to improve quality of life in patients where medications for treatment of chronic pain are not an option due to disease in the liver or kidneys, for instance. Acupuncture is extremely safe when practised correctly and is well accepted by the majority of animals. Under UK law animal acupuncture may only be administered by appropriately qualified veterinary surgeons.
About the speakers:
Dominque is a Veterinary Surgeon and has developed skills and experience in Acupuncture Therapy. Her joy and passion is helping animals great and small and this has been her life's dream and goal. Dominique first realised her destiny to become a vet whilst realising her passion working in South Africa with both wild and domestic animals. Her journey took her across the world to the beautiful Scotland Highlands where she now loves living and working. She works for an independent veterinary practice and also runs Acupetvet Scotland providing acupuncture services from her home near Inverness. Treatment is, of course tailored to the needs of individual pets and provided in a calm, stress free environment
Anna at www.pawsability.co.uk is a qualified Dog Behaviourist, holding Advanced Diplomas in Pet Behaviour and Companion Animal Nutrition, the latter specialising in the relationship between nutrition and behaviour. Working in Scotland since 2003, she has helped many owners and dogs of all shapes and sizes. Her holistic approach evaluates many aspects of the dog's day to day life and works towards reducing stress for the family and their pets.
More information about the speakers and their work can be found at
www.acupetvetscotland.co.uk
&
www.pawsability.co.uk
Payment for Acupuncture & Pain Event, Tickets £10

(Noting £10 discount if an apt booked with Anna or Dominique within one month of event.)
Sorry Workshop cancelled.
A zoom event link will be sent the day before the event. Please make sure that your email is correct - you will receive a PayPal receipt if it is.