Workshops
>
Dog Behaviour and Nutrition - Educational Courses and Talks
Please click here to see details of our new on line workshop: Pain, Behaviour & Acupuncture on Sat 20th March 2021 at 11am.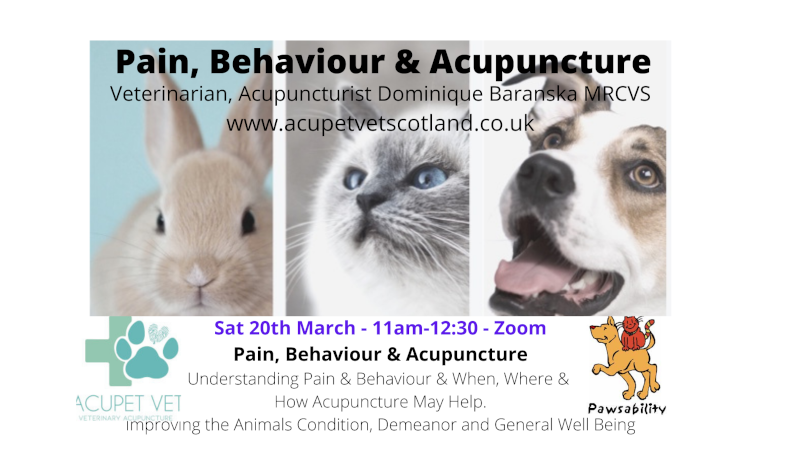 Past workshops have included the following. Please get in touch for more detail.
Past workshops included;
Dog: Food, Brains and Behaviour
K9 Cafe - Ask Me Anything!
Other talks are being prepared on subjects such as
Separation Anxiety and Issues
Canine Compulsive Disorder
Sound Sensitive Dogs
The Human Element of Living with Difficult Dogs
Please
contact us
to be first to hear of dates and locations etc. NB - all workshops are on line just now
If you would like a talk, workshop or course organised for your group / company / organisation then please get in touch. Talks are primarily organised in Scotland, but further afield is possible.
All of the behaviour and dog food talks are presented by Anna Patfield, behaviourist at Pawsability. These talks are all educational and fun. My aim is that you will leave any of the talks being able to confidentally move forward with your plans to help your dogs training, behaviour or nutritional problems. Of course, some of the topics that are covered are complex. I'm not promising that you'll know everything. But you will know whom to trust and know what questions to ask for further help, should you need it.
There are lots of Facebook support groups too for reactive dogs, behavoiur and nutrition (for professionals), puppies and information on events across Scotland.
Please see below for information on upcoming workshops and
contact us
more information or signup here to be kept informed. Thanks.
Love reading?
Here are recommendations for great dog training and behaviour books and on canine nutrition
Testimonials from past workshops:
Thank you for a very informative workshop. I felt that it was very good and confirmed the way I had been approaching the issues and therefore has encouraged me. I am a mental health practitioner and the approaches that I use for rehabilitation are very much in the same spirit. Well presented. March 2018

Today's workshop was extremely useful - thank you!

Excellent, very informative. I am away from today feeling very positive and full of great ideas. Thank you so much.

Thanks Anna for a brilliant day. It was great to meet everyone and hear stories from people in the same situation.

Thank you Anna, lots of info taken on board from today...re-writing my plan now. Great to meet and chat with others with reactive dogs.