Puppy Training Help
>
Helpful tips to consider when you're thinking of getting a puppy
Yeah, congratulations! You've made a life change decision to get a puppy.
First, if you haven't thought deeply about that question, please lease look at our quick question checklist -
Should I get a puppy right now?
to help you avoid The Puppy Trap!
And now, let's look at how to ensure you get the best puppy that's right for you.
Do you trust where you are getting it from? Do you think that the situation the puppy is living is in appalling? Our hearts reach out. How can we leave the little one in this situation? Please walk away and phone the SSPCA or RSPCA. Taking on puppies from situations like this simply allows this bad breeder to keep breeding. It's highly likely that such puppies will be sick and cost you alot of money on both veterinary and behaviour bills.

It's startling that one third of puppies are bought from disreputable sources including internet sites, newspaper ads and social media. Here are some facts:



Nearly half of these puppies, who haven't been seen before buying first, fall sick.

One in five of these puppies cost £500 - £1000 in vet bills in the first 6 months.

Over one third of people who ended up with a sick puppy bought this way, experienced financial and emotional problems.

Over one third of these puppies were spur of the moment decisions.

And these poorly bred puppies are far more likely to suffer from behavioural issues.



Puppies brought up in byres or unkempt outdoor kennels will be difficult to house train and may well have socialisation problems. Is this puppy in a clean, healthy and happy environment?


Have you seen the mother and the father? It's quite normal not see the father. But how do you know that he's well behaved and healthy? If you can please do your research and go and visit him separately, or at least make some inquiries. Behavioural characteristic are frequently inherited. Anxious or hyper-active parents are highly likely to produce similar characteristics in a puppy. Just because he or she is a Crufts Champion does not guarantee you a healthy, happy puppy (with respectful apologies of course to the good breeders out there).


Have you selected a reputable breeder? There are several organisations and web sites who may proclaim to accredit breeders. Please don't trust these outright. We may think that dogs with excellent pedigrees will produce excellent offspring. Sadly, this is not necessarily the case. Whilst many are great, I'm sure, there are some who do have health or behavioural problems.


Don't accept a puppy from anyone who agrees to meet you mid-way, or similar. It's crucially important that you see the home it's been bred in. Have you seen the puppy's home?


Oh, and if you go to a puppy home and are appalled by how the puppy is being raised, then walk away. Please do not give these breeders any money. Go home and phone the SSPCA / RSPCA. Please, don't help to perpetuate bad breeding.
More Information on Helping you decide on whether to get a puppy:
How much does a puppy cost?
An easy to use calculator on how much it costs to keep a pet
What to do and what not to do -
The Kennel Club's Guide on avoiding puppy farms
A Guide to getting a good puppy -
RSPCA Guide to knowing what to look for when buying a puppy
The parents are important, best to do some research -
A discussion on the role of genetics in dog breeding and behaviour, from Dr Jen
A study on why dogs from puppy farms have poorer personalities
, Dr Catherine Douglas, Newcastle University
And if you're still not sure about genes, have a look and listen here,
Jane Arden's musings on Dog Behaviours and Genetics (Facebook)
... A view from the landrover
What to ask when buying your puppy -
The Dogs Trust list of questions to ask when getting a puppy
And finally, if you have carefully chosen your puppy, please ask your breeder to sign up to
The Puppy Socialisation Plan
and then sign up and follow this yourself.
Here's an interesting
Dog Breed Selector
- but take care to
read about puppy health issues etc on this next page here
If you know of any other excellent resources to add to this list, please email me.
And here's a quick graphic of more things to think about when getting a puppy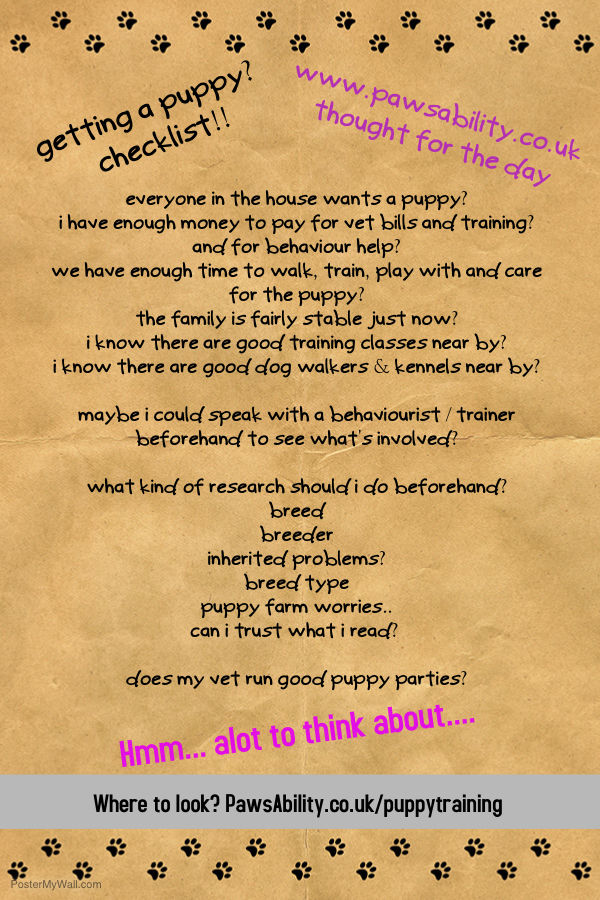 And now, for more information on getting a health puppy, please look here.