Dog Behaviourist Help
>
Anna Patfield, Dog Behaviourist
Pawsability Dog Training and Behaviour is run by Anna Patfield. The business was established in 2003 in Perth and now operates from the Scottish Highlands. Anna is highly recommended by vets, dog training and behaviour colleagues, clients and pet owners, providing help in classes and workshops and on a 1-1 basis either face to face or via the phone / skype.
Anna started her dog behaviourist career back in 2003, commencing training courses COAPE - the Centre of Applied Pet Ethology run at that time by Peter Neville, Sarah Whitehead, Robin Walker and Val Strong. Robert Falconer-Taylor joined soon afterwards and Anna has attended many post qualification workshops and events held by all these eminent Pet Behaviourists.
During this time, Anna developed a passion for study and in particular, on the effect of nutrition on behaviour. A few years later therefore she completed a 3 year Advanced Diploma course in Canine Nutritional Science with CASI (The Companion Animal Science Institute run by James O'Heare), concentrating all the personal choice essay areas on the topic of behaviour. These studies are now summarised in the book: The Good Dog Diet, which helps people through the dog food maze and clarifies how food can affect behaviour.
Anna applies a truly holistic approach to dog behaviour and training, looking at many aspects of a dog or puppies life to provide a complete picture of what affects their behaviour and what hinders their training or their ability to cope with situations. The fundamental approach is psychologically based - looking at the underlying emotions of a dog or puppy and helping them to learn to be calm and happy in any required situation. But beyond psychology, we also need take in to account any potential medical or nutritional impact.
What are your qualifications?
Anna is fully qualified with Advanced Diplomas in Pet Behaviour and Training (COAPE) and Canine Nutritional Science (CASI) - both passed with excellence. Subsequent to these main diploma courses Anna has invested 100's of hours in various CPD courses, and researching general and specific areas such as sound sensitivity, separation issues, barking, car travel, food fussiness and of course aggression, fear and reactivity. Anna is an active member of CAPBT (The COAPE Association of Pet Behaviourists and Trainers) and is a Certified Behaviourist with ICAN (The International Companion Animal Network).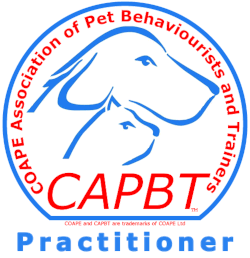 Anna graduated with excellence with Advanced Diploma in Companion Animal Behaviour and Training, and is a CAPBT Practitioner and Mentor.

Anna graduated with excellence in the Advanced Canine Nutritional Science Diploma with the Companion Animal Science Institute and is a classroom assistant.
What is your experience?
Having run classes, helped out in rescues, run workshops and of course, helped many, many people on a 1-1 basis, Anna's experience now is extensive. She is able to help all sorts of breeds of dogs and all sorts of people - we all like do do things differently afterall. Anna has also been a CAPBT committee member, a CAPBT Practitioner and Mentor and continues to mentor new behaviourists, and is a classroom assistant with CASI.
Anna is also an author. Having written for magazines, newspapers and has written some books including The Good Dog Diet and Dogz Thinkz Differentz.