Recommended Dog Books
>
Review of When Pigs Fly Dog Training Book
When Pigs Fly : Training Success With Impossible Dogs by Jane KillionHighly Recommended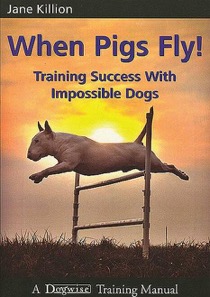 I admit it! This book has been sitting on my shelf for some time. I had glanced through it,never quite read it. However, one rainy S unday afternoon, I browsed through the bookcase and When Pigs Fly came to flew out to keep me occupied over coffees over the next few days. This is an excellent book, easy to read, and well planned to read from start to finish and work through the various stages required to train difficult dogs.
Of course there are many reasons that we may come across where our dogs find it difficult to learn: they may be stressed, they may have behaviour problems; they may be ill. However, this book is primarily written to help the types of dogs that are classified by the breed standard as "difficult to train". Jane focuses particularly on her Bull Terriers.
A Pigs Fly dog is the type of dog who has been bred to be independent, like many terriers. Dogs that have been bred to not need to continually get praise from their owners and to just love their company.
However, as a behaviourist, I never look at a dog and tar it with a breed definition. And, generally, I am dealing with dogs who have been, for whatever reason, difficult to train. All dogs are individuals and even a Labrador or a Cocker Spaniel or a Border Collie who seems to not quite care what you might want will benefit from the discussing and plans in When Pigs Fly!
The reason this book is so great is that it really hooks into the emotional relationship that is needed between dog and owner. Before any actual training occurs, Jane explains why it's important to get your dog motivated - and most importantly - how to go about getting your dog motivated to want to pay you attention, to want to play with you, to want to be with you. Pigs Fly Dogs are intelligent - actually potentially more inquisitive and better at problem solving than others. Jane explains how to use that to your advantage to help to train your difficult dog. Your dog is motivated to do things - at the moment, the motivation isn't coming from you. The book explains how to change things around so that you can deliver things that will highly motivate your dog.
That's the fundamental message of When Pigs Fly.
The book also clearly explains how to train, the benefits of clicker training and how to change your dogs behaviours into what you actually want - and what's appropriate.
There's a simple ABC plan for everything:
A - what happens before;
B - what is the behaviour;
C - what is the dog getting out of it.
There are several worked through examples in the book, including jumping, nipping, barking, chewing and aggression.
Don't expect an easy path - it's hard work - but a highly recommended read for anyone who has a dog that pays them no attention and is difficult to train.